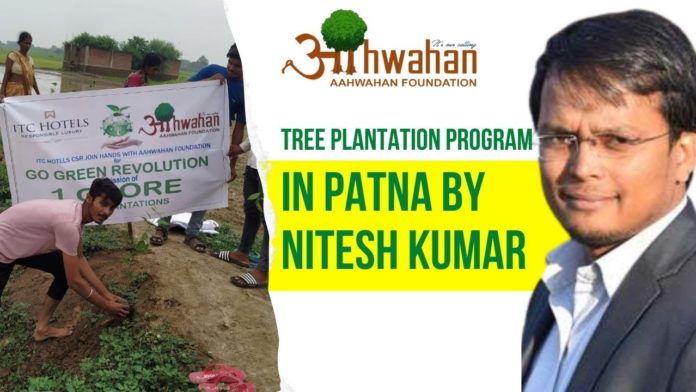 Meet Social Activist Mr. Nitesh Kumar of Aahwahan Foundation
Mr. Nitesh Kumar is a young philanthropist – a veteran in the field of social work, he is an integral member of the Aahwahan foundation from Delhi. Born and brought up in Patna, Bihar, Nitesh is well schooled and learned. He has amassed over 9 years of experience in Business Development & Project Management for Search Engine Optimization Services and Web Development Applications.
Joining Aahwahan Foundation was an extension of his inherent selflessness and ability to provide for others, he envisioned creating a remarkable and rather long-lasting change in the neglected farming sector while utilizing the hi-tech tools to boost the productivity and thus the income of farmers. He has been invested in fieldwork, providing services in remote areas which in turn led him to accumulate a deep understanding of the needs of the Indian Farming Community.

During his tenure at Aahwahan Foundation, Mr. Nitesh Kumar has been the driving force behind some large-scale campaigns for the welfare of under privileged people and environment. The biggest initiative which also happens to be the first project undertaken by him is the "10 Million-Tree Plantation Mission" all across the country. As a part of this campaign, Mr. Nitesh Kumar started tree plantation in the region of Patna, which became a considerable success as he managed to plant more than 10,000 trees in Patna, Noida, Shikohabad with the aid of dedicatedly resolute volunteers of Aahwahan Foundation. On Independence Day 2022, he executed his long-planned idea of planting 10 trees around government schools, helping multiple underprivileged rural areas.
https://youtu.be/F3Lvc74mVGo
In an interview, he recalls the importance of preserving the environment while reinstating the significance of Tree plantations and how inherently it is linked with the sustenance of not just human but all forms of life on Mother Earth.
It has an infinite number of benefits for not just the mankind but for the planet as a whole. Trees contribute greatly towards the sustenance of biodiversity. "The significance of Oaks and Pines goes deeper than their outwardly appealing appearances," explains Nitesh. "The value of plants is unscalable and the purpose immeasurable as they help us combat global warming, prevent soil erosion, lessen the risk of floods and enhance air quality, to name a few of a thousand benefits." Trees provide a shelter and food for wildlife in form of canopies and habitat. They intercept and tap pollutants from the air and barricade UV rays from the sun. "Trees interestingly has aplenty mental and physical health benefits too, there have been studies evincing the role of greenery in reducing stress and anxiety levels," he adds.
Another focus of Nitesh Kumar entailed helping underprivileged people elevate above poverty line, which also is the main goal of the Aahwahan Foundation since it's inception in 2009. When the world was witnessing a global pandemic in the year 2020, Nitesh helped Aahwahan Foundation gear their efforts towards supplying food and ration to the needy, particularly the ones who could not afford to buy on their own. Advancing their mission, they introduced poor families to the importance of education, thus encouraging a number of families to enroll their students in online classes that became a trend, a rather necessitated one during the rampant lockdowns. Nitesh Kumar further worked in collaboration with Aahwahan Foundation to provide nutrition kits to people all around the northern region of India, he manually worked to arrange free health checkups for the elderly.
Having received good education, Mr. Nitesh Kumar understands the importance of education in bringing satisfaction on a personal and a community level. "Education allows one to acquire knowledge and stay informed about the world around them while developing moral and ethical values essential in a society and thereby I want as many children as possible to receive good education. The same has been the foundation of Aahwahan's education campaigns," told Nitesh. "With emphasis on girl child's education, we aim to support the cause of Women Empowerment which is also marked by regularly sanitizing toilets for girls which are also fully equipped so as to reduce the number of girl children dropping out from schools; it is a possibility while attending a school that feels secure and comfortable." Providing free of cost food and RO Filters has also been a part of the campaign.
The education campaign by Aahwahan ran across India in 48 schools adopted by Aahwahan in cities namely Patna, Punjab, Delhi, Hyderabad, Kolkata, Noida, Odisha, and Bangalore. With an aim to annihilate "exclusion" in education sector, Aahwahan provided free stationery for the children, which included textbooks, notebooks, pencils, a pen, an eraser, and a compass box. Besides, the NGO has been working to construct passages for the students and teaching staff to reach schools in villages safely and quickly, ensuring efficiency and ease. The tireless efforts by Aahwahan Foundation bore fruit in form of a greater number of students enrolling in government schools.
One of the major contributions by Aahwahan Foundation has been to take the responsibility of 1532 girls' education. The NGO has promised to support and sponsor primary level of education till 12th standard, it includes providing free books and stationery. The idea of additional emphasis on educating girl child was instituted by Mr. Nitesh who stressed the importance of educating the women in society "who face the challenges of unchangeable biological traits, which in no way makes her less qualified to receive quality education," he asserted. One of the initiatives include portable computer classes to reaching every corner of India. If we look at the most recent works, the NGO has provided power supply to a remote school which was deprived of electricity which led to a mass drop out, inconvenience and suffering for students. Besides power supply, various other electronic gadgets like fans and tube lights were instated to lighten up the future of the children quite literally and metaphorically.
Aahwahan Foundation is made up of strong Pillars like Nitesh Kumar and many others. CEO of Aahwahan Foundation Mr. Braja Kishor Pradhan is the inspiration of all these young social workers. Mr. Braja is a man full of uniquely inspiring ideas and extraordinary management skills who has dedicated his life to help others. Aahwahan Foundation is a family which supports various sectors of society to create a beautiful and cohesive world to live in.
There are more numerous works undertaken by Mr. Nitesh Kumar which are unrecorded but by seeing this tip of the iceberg we can confirm that he is one of the noble men in India and a true face of the Aahwahan foundation in the northern region of our country.
Mr. Vinayak Bhatt is another integral member of Aahwahan Foundation who is a fount of knowledge. He is not only academically qualified but truly erudite. He has assisted Mr. Nitesh Kumar in a number of endeavors which includes various food campaigns wherein they provided nutritious food to underprivileged children. Vinayak Bhatt is spreading the ancient spiritual knowledge to support people, particularly students to advance the mission of Aahwahan. In association with Aahwahan Foundation, Nitesh Kumar and Vinayak Bhatt are also planning to open a free school in rural area of Patna in the near future.
For more information About Aahwahan Foundation
Visit www.aahwahan.com
Head Office : Building No-40, 4th Floor, 9th Block Jayanagr, Bangalore-69
Noida Office: 1st Floor, Commercial Complex, Defense Enclave, Shom Bazar Road, Sec 44, Sadarpur Noida-201303
Mobile 9113018004 / 7795065657/9990044031
Hashtag
#aahwahanfoundation #brajakishorepradhan #ngoindia #noidango #bangalorengo #vinayakbhatt #healthonwheels #bestngo #delhingo #socialactivist #socialworker #healtheducation #fooddonation