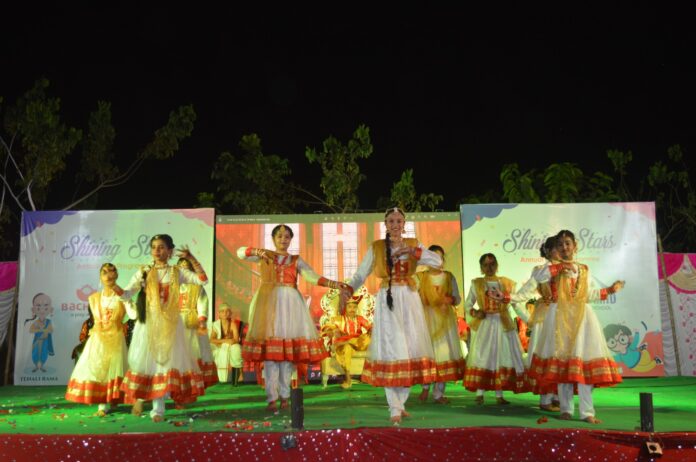 Annual Day Celebration at Pyramid Learn School.
The annual day celebration of Pyramid Learn School was a grand affair as it was themed around the famous wit and poet, Tenali Raman. The day was filled with cultural and educational events showcasing the talent of the students.
The event was a magnificent display of talent, hard work, and dedication put in by the students and staff. The school grounds were adorned with colorful decorations, creating a lively atmosphere that reflected the excitement of the day.
The celebration began with the lighting of the traditional lamp by the chief guest, Traders Association president, Shri. Subhashji Lapotu, Sohel Jamindar, Laxmikant Kosalge, Vijay Kadtan, Chandrakant Devne, Shiak Ahmed, Vitthal and school director F kachhi.
The students put up an impressive display of dances, songs, and skits based on the life and works of Tenali Raman. The play, in particular, was a highlight of the day as it depicted the wit and wisdom of Tenali Raman and how his clever solutions helped solve problems in the kingdom.
In his address, the School Director, Firoj Kachhi, praised the efforts of the students and teachers in making the annual day a success. He also spoke about the importance of preserving the rich cultural heritage of India and the role of education in shaping the future of the nation.
The event ended with a grand finale, which saw the students putting up a mesmerizing display of pyrotechnics and fireworks, leaving the audience spellbound. The Annual Day celebration was a huge success, and the students, staff, and parents left the venue with memories that will last a lifetime.
The event was co-ordinated by Mrs. Jayshre deoda, ended with a vote of thanks by Mrs. Preeti Dhabe and the national anthem. The students, teachers, and parents dispersed with happy memories of the day and a promise to work hard and bring more glory to the school.